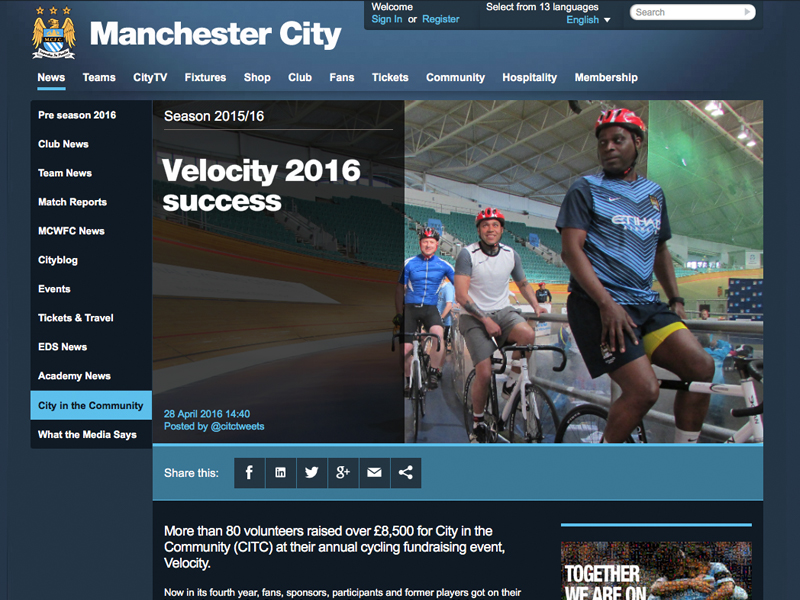 ICP Networks saddled up for a third successive year to support Manchester City's Velocity fundraiser.
The team for the Cheshire based IT and Networking resellers joined the City In The Community, or CITC annual cycling event on Saturday.
More than 80 volunteers joined forces with former City legends Alex Williams MBE, Ian Brightwell and Richard Edgehill and raised more than £8,500.
The event is now in its fourth year and fans, sponsors and fund-raisers took to their bikes at Manchester's Velodrome before and after City's 4-nil win over Stoke City on Saturday April 23.
Proud
ICP Networks MD Matt Archer, said: "We are proud supporters of CITC and we are big fans in particular of the Velocity fundraiser.
"There are a number of members of the ICP Networks team who are keen cyclists so for them to have the opportunity to ride around the Velodrome is an incredible experience.
"We didn't quite do well enough to feature amongst the prizes this year but it is the taking part that matters and we managed to play a small part in raising funds for an amazing cause.
"That coupled with the fact that the first team that managed to beat Stoke made it the perfect Saturday!"
Impressive
The Velocity event is starting to attract some serious cyclists and this year Gary Bury, of Chorlton Velo, rode the fastest lap of 15.799 seconds and also rode an impressive 149 laps as the most distance travelled.
Chorlton Velo 1 won the team lap count as the five riders rode an outstanding 734 laps in one hour.
The Velocity riders combined to cover an impressive 7847 laps of the Velodrome over the course of the event.
Alex Williams, MBE, said: "I'm incredibly proud to have been part of our Velocity fundraising event. It was such a great day and there was a real sense of pride amongst our riders."
"Not only did we raise money for City in the Community, but we were able to showcase some of the wonderful work we deliver."
All proceeds raised will support CITC to deliver increased physical activity to primary school children across Manchester.
---
View Gallery