Cheshire based IT and Networking expert Matthew Archer has been elected to the global board of ASCDI/NATD.
The Association of Service and Computer Dealers and North American Association of Telecom Dealers is a not for profit organisation.
ASCDI/NATD represents businesses across the globe that buy, sell and service networking, server, storage, and telecoms equipment /solutions – ranging from small privately owned to large public traded corporations, including many Manufactures.
Archer, the Managing Director of Cheshire based ICP Networks, has been involved with ASCDI since 1998 but will now join the board.
He flew to Austin, Texas on Tuesday to take up his Directorship at the board meeting.
Honoured
Matt, said: "I'm honoured to have been asked to join the global board of ASCDI, it is an association I have been a member for more than 15 year.
"The AscdiNatd leads our community on behalf of resellers worldwide on a wide variety of ways to improve and support the experiences of its members end clients.
"What makes AscdiNatd particular special is it is a selective group of values led principled organisations whose demands for membership are very high.
"Companies cannot simply sign up and pay to be a member, they need to be well established and have demonstrated a proven track record in the industry. Their ethics and reputations are well vetted by our members before a company can be offered a place in the association.
"By joining the Board I will do my utmost to represent the association, and its members and partners, to the exacting standards the ASCDI has set over the last 30+ years."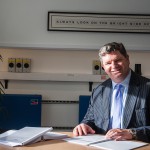 The ASCDI was founded in 1970s when several pioneering electronic / IT companies came together to form the organisation.
In 2000 the ASCDI merged with the CDLA, DDA, ECLAT and ITREA to form one global IT support, leasing and sales organisation.
In 2012 the NATD merged as well to form the new ASCDI/NATD and now boasts hundreds of member companies from around the world.
Reconnect
Matt, added: "I have been looking forward to visiting Austin, Texas to attend the ASCDI meeting in Austin.  It is always great to reconnect with old friends from around the world (literally) and make new friends within our niche in the IT Industry.
"Everything is said to be bigger in Texas, so I will look forward to experiencing some sizeable meals (diet starts next week) and some world famous southern hospitality!
"As an ASCDI Board Member I will look forward to a little extra work beforehand with the board and my industry colleagues before the meeting kicks off.
"The meeting itself will have a wide variety of experts speaking from US congressional officials talking about a consumer rights (USA) bill of law being put forward to congress, several legal experts sharing their niche specialty, as well as an IBM representative and a Texas BBQ round things off!"
Archer flew to Brussels last week to take part once again in the EU-US Trade Talks. The ICP Networks boss is part of a stakeholder group commissioned to present information to the US and EU delegations on the Transatlantic Trade and Investment Partnership.
Archer has addressed a previous round of the talks, now entering their 12th session, as the businesses on both sides of the Atlantic strive for an agreement in principle before the end of 2016.
ENDS