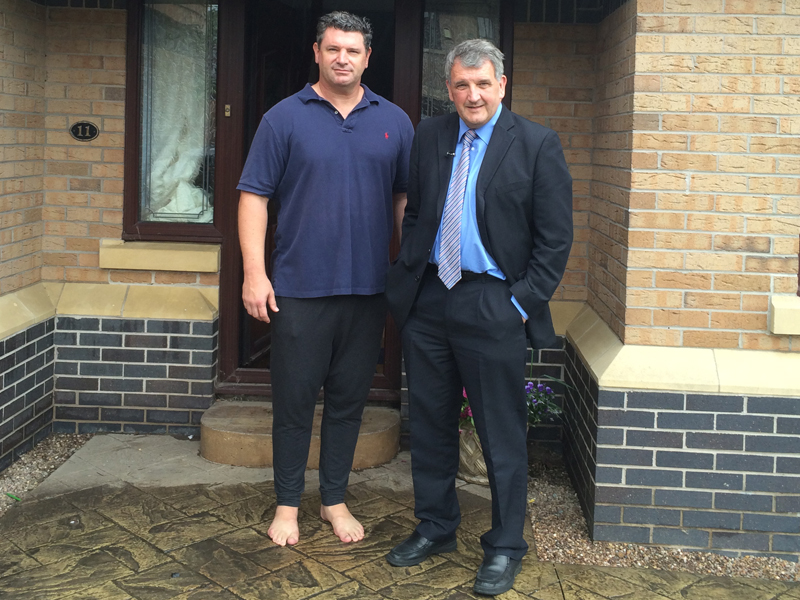 IT WAS a two hour torrent that ICP Networks MD Matt Archer will probably never forget.
What started as a light summer shower turned into a deluge that left his family and neighbours victims of an astonishing flood they will never forget.
The unprecedented rainfall actually lasted for more like five hours but the damage was done during an intense 120 minutes that saw up to eight inches of water rampage across Matt's property and into his home.
What makes this story even more incredible than the time of year – with Wimbledon just a month away and the English cricket season at its midway point – is the fact that Poynton locally is regarded as being fairly high situated between 290 ft and 490 ft above sea level.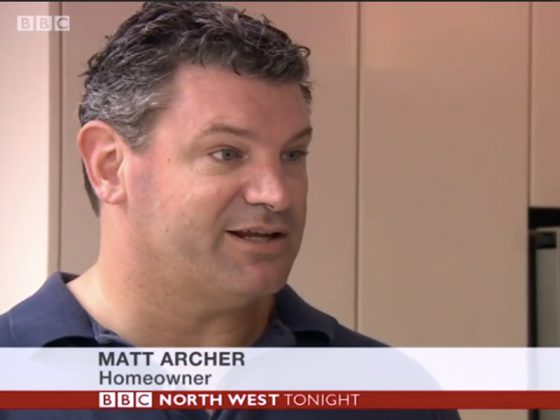 Rain
Matt said: "We just can't quite believe what happened. We have lived here for a number of years and of course we are quite used to rain living in South Manchester but this was incredible.
"It started to rain fairly heavily but it quickly developed and became incredibly intense creating a huge volume of water which literally burst through my neighbour's garden wall and mine from the farmer's field and the result was devastating.
"The sheer force of the water was so immense and it just kept coming and coming.
"We worked as best we could as a family using sand bags to try to stop the water from breaching the property and it got very scary very quickly with our children and pet dogs in particularly scared.
"It soon became clear this would not be a battle we could win and the water forced its way into the house and flooded our entire ground floor wrecking everything."
Major Incident
The rain began around 2pm and continued throughout the afternoon but for more than two hours it was intense forcing Cheshire Police to declare the event a major incident.
People in the Poynton area were forced to leave their homes and a landslide affected trains between Stockport and Disley and firefighters used rescue boats to move people to a temporary emergency centre as homes were damaged and hit with power cuts.
"Obviously the most important thing is that my family and friends were all safe and escaped injury but it is that feeling of utter helplessness when the waters came," Matt added.
"You would think with where we live that flooding would be the last issue we need to be concerned with and I am sure once the initial emergency has been dealt with there will be some serious repercussions because clearly there is an issue with drainage from surrounding lands. This should not have happened.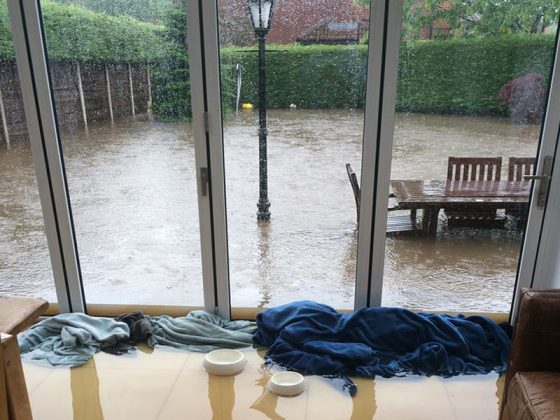 "It is heartbreaking for my family, my wife especially, to see the beautiful home she has created destroyed in such a short space of time. Of course, it can all be rebuilt but it is the manner of the way the flood occurred that hurts and it would appeared to have been very avoidable.
'"My wife Joanne and I are extremely grateful to our entire neighbourhood for all pitching in to help us and other neighbours affected to clear all of the standing water from our homes on Saturday. It is what makes Britain and our communities great!
"Our MP David Rutley and the Chief Executive's Office of Cheshire East Council have been supportive of our entire community and we are very thankful and appreciative to them and all of the Police, Fire, and all of the other teams of people who supported the affected communities this past weekend.'
Extreme
A spokesman for Cheshire East Council said: "While we were prepared for extreme weather conditions, no one could have predicted the severity of flash flooding that we experienced.
"More rain is expected in the next day or so and we are continuing to monitor the situation on behalf of our residents."
A spokesman for Cheshire Fire and Rescue said: "Six fire engines have been sent to the scene together with water rescue boats with general flooding up to eight inches deep after a nearby river is understood to have burst its banks.
"Firefighters in wading gear have been touring the area ensuring the safety of vulnerable people unable to get of their properties."
BBC North West were quickly onto the story and Chief Reporter Dave Guest visited Matt Archer and his neighbour to learn more about the disaster which featured on BBC North West news.
Footage captured by Matt's wife Joanne Archer was included in the BBC report as she recorded the moments the flood waters invaded her home.
Now the clean-up operation begins and that will mean months of work as Matt and his family attempt to rebuild their beautiful Cheshire home.
---
View Joanne Archer's Video
ARVE Error: id and provider shortcodes attributes are mandatory for old shortcodes. It is recommended to switch to new shortcodes that need only url
---
View Gallery