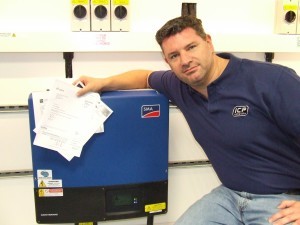 PHONE giants O2 got their wires crossed – by dialling the wrong number for ICP Networks and accidentally overcharging them a staggering £51,493.
They telecommunications giants somehow misplaced the decimal point when charging IT and Network specialists ICP Networks for their January bill and collected a whopping £52,014 – instead of the £520.14 they were actually owed.
Even though the error was spotted immediately ICP Networks are STILL waiting for their refund SEVEN days after the mistakes as O2 customer relations agents claim they were unable to find a manager with the power to authorise such a large repayment.
Stunned
Stunned ICP Networks Accounts Exec Dawn Dennis discovered the shocking mistake after receiving a call from American Express – who were checking the abnormal amount.
Dawn said: "It is a good job I was sitting down when I heard the news. I could barely believe what had happened but at least the mistakes was caught immediately.
"Mistakes happen and that should have been the end of the matter but, even though everyone acknowledges that an error has been made, we are still waiting for our money back.
"How on Earth a mistake like this can happen frankly is beyond me? We received an automated text from the Amex Fraud Department – which is how the bill is automatically paid – alerting us to the error.
"Even though we were onto the mistake within minutes – and it was acknowledged as an error – they said the payment could not be reversed. It appears somehow, somebody at the 02 end has forgot to add the decimal point.
Mistake
"The mistake was spotted immediately and within minutes, we alerted 02 but they said the payment could not reversed and instead, they would have to see authorisation for permission to send us a refund because of of the size of the mistake – and the amount of money involved.
"It is quite ironic that the communications experts apparently have so far been unable to communicate with the person who will ultimately authorise the refund – and it's now been a week!"
Marketing exec James Fletcher was equally shocked adding: "We are an ISO 9001 / 14001 quality registered business and we know the levels we need to operate too so we can not understand the failure and quality management system of a blue chip organisation like 02. There have been failures on multiple levels, from the original problem to now taking ownership of the complaint.
"Fortunately ICP Networks is a thriving business, and we can cope financially with the inconvenience but that does not take into account the cost to us in terms of potential opportunities – particularly with a regard to a development opportunity we hope to launch next month called Mobile Force Field  – a subject we ironically planned to talk to O2 about.
"It is also extremely concerning to think how it would have affected our business, or those of smaller companies who's business relies entirely on cash-flow – £50k taken in error is a big pill to swallow!"
ICP Networks source, sell and supply hardware from manufacturers such as Cisco, Avaya, HP and Juniper to business all around the world from the HQ in Poynton, South of Manchester.
Celebrating
The IT and Networking specialists are celebrating a successful ten years in business and recently announced an exciting four year partnership with Manchester City's CITC program.
Prior to the 02 nightmare ICP Networks had been celebrated a fantastic week toasting their first 'Green" victory -as they received a £5,642.38 payment FROM utility giants E-On!
ICP Networks have been supplying energy to the grid via their 50 kWp solar panel system installed at Lexicon House, their new worldwide headquarters in Poynton, Cheshire – dubbed the 'Greenest IT HQ In Britain' – since they moved there last year.
"It has taken the shine off what was otherwise a pretty satisfying week, made even better when we received the cheque from E-on," Mr Fletcher added.
"We are particularly proud of what we have achieved with Lexicon House in terms of our eco-credentials and the solar panel installation has surpassed our wildest dreams in terms of expectation.
"We were hoping to use the additional funds saved from energy bills to expand the business rather than pay over zealous phone companies – let's just hope 02 sort this mess out quickly!"
ICP Networks have a number of 02 supplied mobile phones and spend between £5k to £6k with the phone giants annually – some £45k LESS than the amount they were charged for January.
O2, who use the strap line – 'Be More Dog' – as part of their current marketing campaign have promised to investigate the incident with immediate effect. 
ENDS
For all media enquiries contact Onside PR at ICP@onsidepr.com