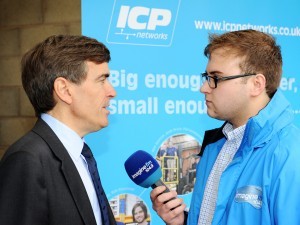 Conservative MP David Rutley has praised ICP Networks publicly in his Summer newsletter.
The Tory MP for Macclesfield was proud to open our new £1 million global headquarters last summer and hailed the investment at Lexicon House as an example other businesses should follow.
Mr Rutley is keen to encourage new businesses to Cheshire and views ICP Network's move to Poynton as terrific news for local people and a confidence booster for his constituency.
He wrote about his experience in opening Lexicon House in the Spring / Summer edition of Poynton In Touch, a newspaper produced by Mr Rutley's team specifically for local people.
He said: "I am delighted that ICP Networks has chosen to invest in its new premises here in Poynton  – another vote of confidence in the village."
Cisco Routers
ICP Networks MD Matt Archer provided Mr Rutley with a personal tour of the 16,500 sq ft headquarters with its purpose built warehousing facility that supplies new and used Cisco routers, switches and
The building was designed from the ground up to consider the environment at every level and includes the largest solar panel installation in the North West, a giant 50kWp system that generates almost three times the amount of energy required to power the ICP Networks operation.
Modern lighting saves more than 90% energy, a ventilation recovery system, Planitherm Argon Super Thermal Glass and super insulation ensure the building stays warm in the winter and cool in the summer.
Honour
Mr Archer, said: "It was an honour for us to welcome Mr Rutley to Lexicon House and we are grateful to him for agreeing to open our building and welcoming us to our new home in Poynton.
"We are particularly proud of what we have achieved and proud to be the standard bearings for the IT industry but businesses in general. It does take thought and consideration and an obvious financial investment but the results are already showing that it is worth it.
"It is common sense, we are doing our bit to help the environment but we are also saving money, in terms of outgoing bills as we now have no energy bills, and raising revenue as the energy companies pay us for our excess energy."
ICP Networks will celebrate their first anniversary at their new Poynton HQ this month and the early predications are the solar panel system will have paid for itself within seven years!
##[LNG:28]##