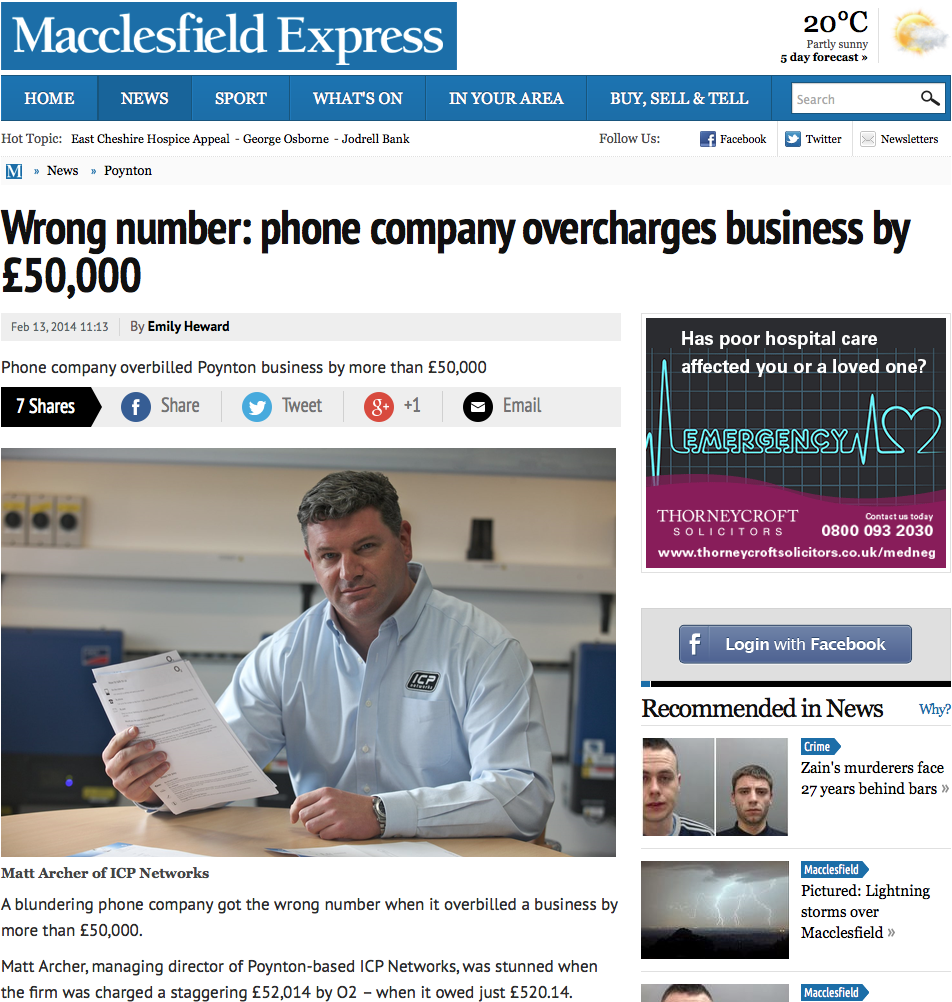 ICP Networks are making headlines again – as The Macclesfield Express reports on their dramatic 02 mix-up.
The networking and IT specialists were victims of a monumental mistake by the telecommunication giants as they were overcharged by a staggering £50,000.
Telecommunications giants 02 somehow misplaced the decimal point when charging IT and Network specialists ICP Networks for their January bill and collected a whopping £52,014 – instead of the £520.14 they were actually owed.
ICP Networks spotted the mistake immediately – and the error was acknowledged by 02 account executives – but because of the huge amount were then forced to wait more than a WEEK for a refund and apology.
Shock
Managing Director Matt Archer, said: "It was a shock to the system that is for sure and we were disappointed that having acknowledge the initial mistake we were then effectively punished a second time as we were forced to wait such a long time for the money to be returned.
"Fortunately we were able to sort it in the end and the money was returned but the story was picked up by various media including The Manchester Evening News and Macclesfield Express.
"It is right to highlight such mistakes because, whilst mistakes do happen and we are all human, it is important that a system is put in place to rectify any errors quickly and efficiently – particularly it those errors hit small businesses financially.
"Fortunately we are a large enough business to be able to swallow the mistake and cope with it until it is rectified without suffering any affect on our ability to trade but many other companies will not be in such a fortunate position and these mistakes should not happen."
Read The MacclesField Express Story 
To read the way The Macclesfield Express covered ICP Network's 02 nightmare click this link.
Read ICP Networks News coverage by clicking this link.