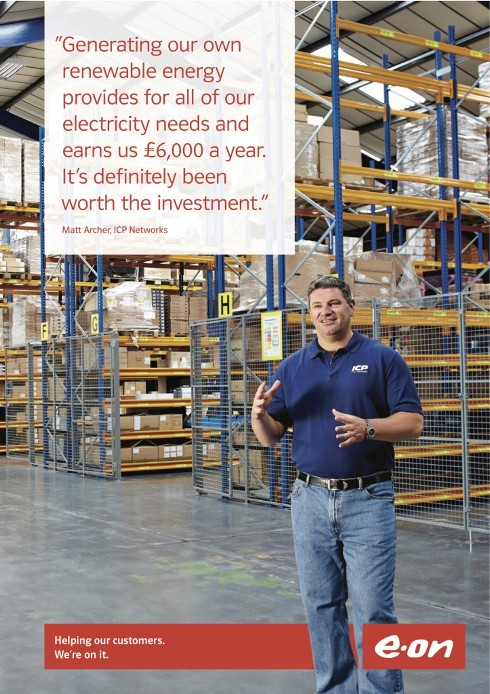 ICP Networks have been selected by energy giants EON for a national campaign.
The Networking and IT specialists have been chosen because of their work creating Lexicon House, dubbed the Greenest IT HQ in Britain.
ICP Networks created the award-winning building from the ground up considering the environment, and their impact on it, at every level.
A huge 50KW solar panel installation consisting of 200 individual solar panels spans the width of Lexicon House, energy efficient lightbulbs, sensors, triple glazed glass and super insulated walls and ceiling panels have resulted in a building that generates an income for ICP Networks.
They produce almost three times the amount of energy they actually require leaving them with no bills and a surplus that is sold back to the grid.
Environment
Matt Archer, said: "We worked extremely hard to create a building that would have as little impact on the environment as possible. We recognise that our industry can have a detrimental impact on the environment and so felt it was our duty to show that it doesn't have to be that way.
"We were lucky in a way in that Lexicon House was a shell when we acquired it and that enabled us to literally plan its redesign from the ground up, considering every square inch of the build and create a bespoke building that is kind to the planet, super efficient and yet provides us with a first class facility from which we can conduct our business.
"The results have been spectacular, far and above what we had considered possible and the fact that Lexicon House is now being recognised and congratulated for its energy efficiency is truly pleasing.
Energy
"EON are our energy suppliers, though ironically our roles have reversed since the move here and we now actually supply them with our excess energy and they asked us if we would work with other businesses to show what can be done, ways to reduce bills and have a positive impact on the environment.
"Naturally we were thrilled, honoured to be asked to help and if we can help others to achieve similar success it will be a terrific bonus.
"It is possible for business to enjoy major benefits from making relatively small changes and whilst there is clearly an initial outlay financially the longer term rewards are there for all to see."
EON will use ICP Networks in a national campaign which it is hoped will inspired business to try to improve their energy efficiency.
View The Case Study
Behind The Scenes On EOn Shoot