A Phone is a phone is a phone, right? Maybe more than we know. Except sometimes, rather frustratingly, the physical similarities. Many overlapping features can lead to missing essential functions. Cisco SPA Phones are no different.
A day at the Cisco Phone Spa, so to speak…
One of the key Cisco IP Phone differences is between the 'CP' Cisco IP Phone Range and the 'SPA' IP Phones and the protocols they use respectively. In simple terms, the CP range is not Session Initiation Protocol, or SIP phones, and don't work on SKYPE etc.
Connecting the right way.
Humorously when the TV Show 24 was first aired, we had a lot of ladies wanting their partner's ringtone to be that of Jack Bauer's when they called home. Cool as that would have been, we had to let them down gently. Without a Cisco Call Manager Solution, the phone wouldn't ring in that cool way. Nowadays we guide many of clients who are looking for a SIP solution towards providers that fit their needs. Those who are looking at a new VoIP solution should check out PC Magazine comparison guide: The Best VoIP Providers and Phone Services of 2017. This is excellent for researching the best business solution. It also provides a good guide for home usage.
Feature Blind
Once we are up to speed with the provider (if we don't have one already) we can look to getting a feature rich and properly cool Cisco SPA Phone – and not some dull soulless model like the SPA301. We have included the most popular and relevant Cisco SPA Phones in our experience within the comparison chart below. In our day to day experience the SPA504G, SPA508G and the SPA525G2's are the most popular and seem to have the greatest installation base.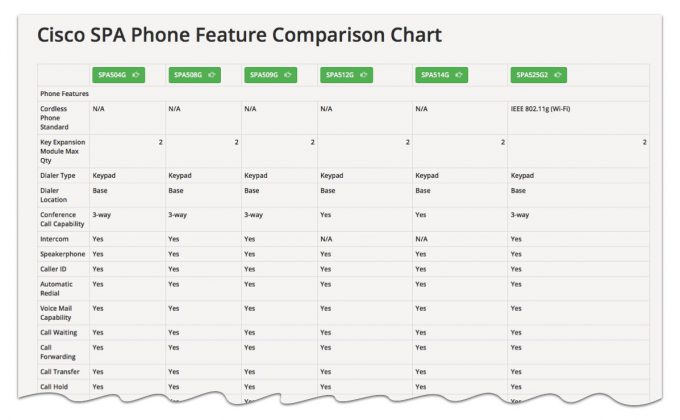 Click on the image above to take you to the chart.
Click the link of the applicable phone in the above SPA Comparison chart for further specifications on the SPA Phones
Scroll to the 'Show Detailed Specification' tab and expand to see Quality of Service, Codec and other information.
Any questions? Feel free to ask us.