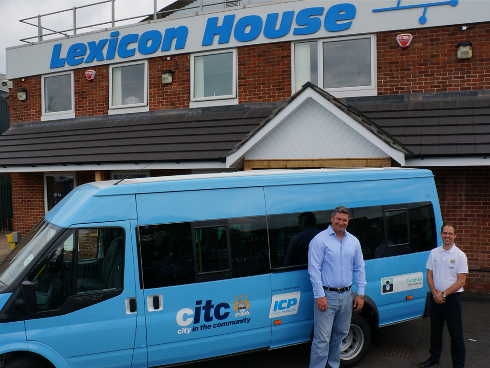 ICP Networks have donated a stunning new mini bus to Manchester City's City In The Community Foundation.
The mini bus joins the transit van already donated to the charity organisation that supports young and vulnerable people in the Greater Manchester area.
ICP Networks have agreed a four-year sponsorship package with CITC and have donated a number of electronic tablets used as part of a learning program and supported a number of CITC events.
MD Matt Archer, said: "We are delighted and very proud of our association with CITC and Manchester City and honoured to be able to assist them in a small way.
"The work CITC do for thousands of young people in and around the Greater Manchester area is invaluable and if we can help them in any way it is our pleasure.
"The mini bus will play a crucial role in the CITC program as it transports young people and CITC staff to events around the City and sits proudly alongside the transit van we donated earlier this year as part of their Roadshow program."
Community
CITC are the Community arm of Manchester City Football Club. The charity was formed in 1986 with the specific task of forging closer links between the Football Club and local community.
They employ a team of around 50 people tasked with working with more than 200,000 people of all ages each year on projects covering four key areas: Sport, Health, Young People and Skills & Enterprise.
MobileForceField agreed to support CITC's vital work with an initial four-year deal. The child safety app will provide financial support such as the new mini bus as well as providing technological support to the CITC team as much of their work involves the use of tablets.
They teach children key skills using tablet based programs and MobileForceField will enable Manchester City staff to ensure children are safe whenever they are under the care of the CITC team leaders.
Mike Green, Head of CITC, said: "ICP Networks have provided CITC with tremendous support and we appreciate their generosity yet again.
"The mini bus and the transit vans are vital for CITC to be able deliver our commitment towards providing support to the Greater Manchester community, something that would not be possible without the kind support of ICP Networks and our other supporters."