Manchester City's City In The Community Foundation have gifted ICP Networks an early Christmas surprise.
The CITC team recorded a thank you video for the ICP Networks team for the support they have provided over the past two years and published it the world via Facebook as an early  Christmas present.
ICP Networks have been a proud sponsor of CITC providing them with two mini-buses and a transit van crucial in delivering help and support to thousands of young people across Greater Manchester.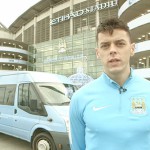 Humbled
ICP Networks MD Matt Archer, said: "To say the ICP Networks team were stunned and slightly humbled would be the understatement of 2015 but was extremely well received early Christmas present.
"We are proud to support the CITC team and we stand by everything they try to achieve, their work is wonderful, often goes on in the background without the recognition they deserve and if we can help them in a small way we are honoured to do so.
"We had no idea about the video they were producing until it was published and it is really touching to hear from the very people who are delivering the variety of CITC programs how the ICP Networks transportation has helped.
"We would like to say a particular thank you and well done to CITC's Business Development Manager Michael Geary and Mike Green Head of CITC for all the work they do behind the scenes and the rest of their team."
"We support CITC because they make a difference and we are honoured to feel part of their team. We wish them, all the children and young people the work with and everyone associated with Manchester City a very Merry Christmas and Happy New Year.
Staggering
The CITC video records how the mini bus and van supplied by ICP Networks has provided football, fitness and educational support to a staggering 25,000 people across Greater Manchester.
They have taken the CITC roadshow to more than 120 Primary Schools, provided 1,200 hours and 600 classes to young people as well as allowed people to participate in the award-winning One City Disability Awareness program.
CITC help you people in five keys areas:
For more information on City in the Community please visit: www.mcfc.co.uk/Community/Community
To learn more about ICP Networks and our partnership with Manchester City and City In The Community Foundation visit our website: www.icpnetworks.co.uk
Watch The Video
ARVE Error: id and provider shortcodes attributes are mandatory for old shortcodes. It is recommended to switch to new shortcodes that need only url
View The Gallery